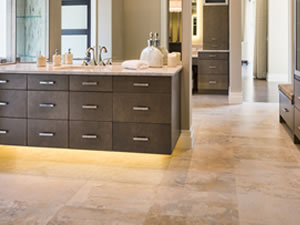 Limestone Restoration | Toronto ONT
We can clean, hone, polish, and protect your limestone, and make it look new again.
Limestone that has become dull and damaged will need professional services to restore its elegant luster and keep it looking its best. At 360 Floor Care, we know what it takes to make your limestone surfaces look sensational. If you are in the Toronto, Ontario area and your limestone is dirty or dull-looking, scratched, etched, cracked, chipped, or otherwise damaged, don't replace it! Our cleaning, polishing, restoration and protection services can make an incredible difference.
We provide complete limestone care and professional maintenance services for floors, countertops, vanity tops, island tops, and bar tops for residential clients. Keep reading to learn more about how we can meet your needs.
Honing, Polishing, and Refinishing
Does your limestone have dull areas associated with wear patterns, scratches, etches or spots? An uneven finish, dull spots or etches can diminish the elegant appearance of your limestone surfaces. 360 Floor Care can hone your limestone surfaces to eliminate these imperfections, resulting in a new limestone surface free of damage. With our limestone honing and polishing services, our expert technicians can achieve a honed or soft matte finish that is warm, inviting, and velvety smooth. We can also polish your limestone using the appropriate diamonds or polishing powders to achieve a semi-gloss or gloss finish.
Repair and Replacement
Do you have chipped, cracked, or damaged limestone countertops? Our expert limestone repair services include filling in chipped areas in limestone, fixing limestone cracks, blending the repair site with the surrounding area, and honing and polishing it to match the finish on the rest of your limestone surface.
Stain Removal
Whether you are seeking guidance on how to remove limestone stains or discolorations yourself or want us to treat your limestone, most stains can be removed and the original finish of your stone can be restored.
Limestone Cleaning
Limestone floor and surfaces will benefit from periodic professional deep cleaning services, using non-acidic, highly-effective cleaning solutions and professional equipment.
Limestone Sealing and Protecting
Limestone is easier to keep clean with periodic professional deep cleaning services, using non-acidic, highly-effective cleaning solutions. Once your limestone is cleaned and restored, we may recommend you have us seal it to enhance its stain resistance. We say, "May" because not all stone needs to be sealed. Highly polished limestone may not even take an impregnating sealer. But, if sealing is recommended, know that sealing represents an inexpensive, preventative measure against limestone stain damage.
What You Should Know…
At 360 Floor Care, we can instruct you on the proper day-to-day care of your natural stone and tile floors, countertops, and other surfaces. We offer a free, downloadable Care Guide and can recommend stone-safe care products to help you keep your home or business looking great.
---
For a FREE evaluation on your limestone or to schedule services for limestone floor polishing, limestone countertop cleaning and sealing, or other limestone services throughout the Toronto, Ontario area, fill out our online contact form or call (647) 689-6148 today.